I love what I do and I love real estate. When it comes to helping my clients list and sell their property there is nothing I cherish more. Here is a brief outline of what to expect:
Meet and determine timeline – We will discuss your goals and your timeline for getting your home on the market. I will provide a custom timeline so we are both on the same page regarding our objectives.
Property analysis – You will tour me through your home and I will be looking for listing dollar – those special things that will make buyers get excited about your home. I will also determine what should be done in terms of cleaning, curb appeal, and deferred maintenance, before getting your home on the market.
Pre-inspection – I provide a complimentary pre-inspection for my sellers at no cost. This helps the seller target the most important items to address in terms of repairs and maintenance.
Staging – Staging a home for sale is much different than decorating it for day-to-day living. Staged homes sell faster and for more money. Even in a fast market that is very favorable for sellers, staging is important. I provide a staging consultation and will discuss your staging plan.
Professional photography – There is no substitute for professional photography. Buyers are searching for homes online and are determining which homes to tour in-person based on whether they like what they see in the photographs. My photographer also offers drone photography for those properties that can benefit from such images. These photographs are also showcased on our special Windermere photo gallery.
Floorplans – Buyers love floorplans as they either provide a roadmap for the photos they are reviewing online or they are takeaways for buyers who are really viewing your home as a viable candidate. This helps them plan out their furniture plan.
Pricing – This is one of the most important marketing items on this list. I will research the market, searching for homes that are similar to yours to determine how the market has responded to them. This, plus information on supply and demand will provide clues as to where to price the home on the market. I also spend a great deal of time determining what kind of properties the buyers are currently seeing in the market place that would be similar to yours, so that I can share with you with what these "Buyers' Eyes are Seeing" and how best to position your property to be the most competitive when we are on the market.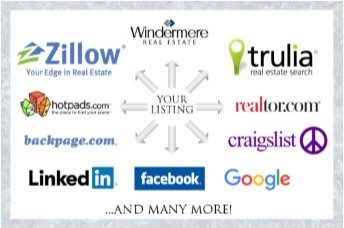 Online Marketing – I am a strong believer in online marketing. According to the National Association of REALTORS®, 92% of all buyers search for homes online. It is critical that your property listing show up on the websites they are searching on. When your home is listed through me, there are dozens of property marketing websites that will include your home listing, getting that information in front of as many potential buyers as possible. Some of those websites include Windermere.com, REALTOR.com, Zillow, Trulia, Redfin, and many many more.
Print Marketing – Print Marketing is still a critical component of my marketing campaign. Potential buyers still like flyers, printed property information, just listed cards, and special feature cards. I also include a permanent flyer on my sign that is easy to read for passers-by.
Open House – The key is to get as many potential buyers excited about your property as possible and in my experience, holding an open house can be just the ticket. I invite my entire database to the event as well as neighbors and potential buyers.
Communication – I will provide you with a weekly seller report that outlines our showings, any interested buyers, online traffic, and any offers. I will also review our strategy for the upcoming week. That way you always know exactly where we stand!